Downe Travel are absolutely thrilled to have been named as one of the best agencies in the UK & Ireland! 🏆🏆🏆
So thankful to all our loyal customers for your continued support.
Official press release below………..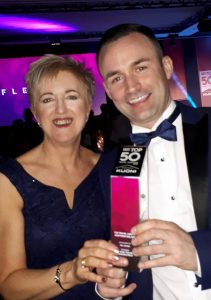 PRESS RELEASE April 26, 2018
Revealed: the UK & Ireland's best travel agents!
A high street travel agency in Downpatrick has been named as one of the best agencies in the UK & Ireland.
Downe Travel has been selected as the Top Travel Agency in Northern Ireland, as part of a power-list of the best agents in the British Isles by industry bible the Travel Trade Gazette.
The TTG Top 50 Travel Agencies list was revealed in a glittering ceremony in Birmingham on Thursday night after an extensive judging process, which saw agencies be rated by tour operators and other suppliers, and then assessed by travel trade journalists.
More than 900 travel agencies and branches put themselves forward for consideration for TTG's Top 50 Travel Agencies 2018 – in association with Kuoni – from which a shortlist of 95 finalists across 12 regional and 7 nationwide categories was devised.
TTG group editor Pippa Jacks said: "Now in its third year, our Top 50 Travel Agencies initiative has seen us scour the UK and Ireland to uncover its most dedicated and dynamic travel agency businesses.
"It's been truly inspiring to hear how these agencies go above and beyond on a daily basis, to deliver extraordinary service and incredible value to their customers, and to support their local communities.
"Our winners demonstrate that high street travel retailing in 2018 is a vibrant and successful business sector, and that the future is bright for exceptional agencies like these."
Judges said of Downe Travel: "It's clear that Downe Travel is an integral part of the Downpatrick community and a business that is as popular with its customers as it is skilled in selling travel. We were especially impressed to see the team's commitment to making travel more comfortable for travellers with autism."
"Downe Travel are absolutely delighted to win the TTG top 50 agency award Northern Ireland 2018. We are especially pleased for the amazing staff who are the back bone of the business and it is great to see that their hard work and passion is recognised by receiving this prestigious accolade.
Lunch and bubbles were delivered to the office to celebrate the big win.
Downe Travel is a family run business with one store and it is great see our name up there competing on a national stage. We are very grateful to our loyal clients and we have received hundreds of messages of support since our win. Thank you to the TTG and all the sponsors for a fantastic night and we celebrated in style meeting some great people along the way"
The shortlisting stage was undertaken by a panel of 60 travel suppliers including airlines, tour operators and car hire providers, who rated hopeful agencies according to their business performance, customer service and innovation. To decide which shortlisted agencies made it into the Top 50 list, a TTG journalist visited or interviewed each shortlisted agency to carry out an assessment.
Find the full Top 50 shortlist and more information on the process at ttgtop50.com
Notes:
Travel Trade Gazette is the UK & Ireland's leading travel industry magazine, publishing weekly since 1953. TTG's annual Top 50 Travel Agencies list is formed of: the best three high street stores from each of 12 regions, and the best two nationwide agencies in each of seven categories. The ceremony took place at the Vox Centre at Resorts World Birmingham on April 26, 2018.
Social Share