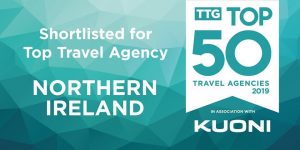 PRESS RELEASE
A high street travel agency in Downpatrick has been shortlisted as one of the best travel agencies in the British Isles.
Downe Travel has been selected as one of the top five high street agencies in the Northern Ireland region, as part of a power-list of the nation's best agents by industry bible the Travel Trade Gazette.
More than 500 travel agencies and branches put themselves forward for consideration for TTG's Top 50 Travel Agencies 2019 – in association with Kuoni – from which a shortlist of 100 finalists across 20 categories has been devised.
On April 25, 2019, the 50 agencies that have ultimately earned a place in the Top 50 list for 2019 will be announced at a glittering ceremony at The Vox Centre in Birmingham.
TTG Media group editor Pippa Jacks said: "Now in its fourth year, our Top 50 Travel Agencies initiative takes us the length and breadth of the country to uncover stories of brilliant agents going the extra mile for their customers, giving great value, and serving their communities.
"With extremely stiff competition once again this year, any high street agency that has made it onto the shortlist should be extremely proud."
Paul Gallagher director Downe Travel said: "We are very proud once again to be nominated for this very prestigious award. The success of our business is testament to our amazing staff who provide a very personal and enhanced customer experience. Their passion and dedication for their job has been rewarded with a place in the top 5 agencies in Northern Ireland. We are looking forward to a fantastic evening and we hope we can make it two in a row as Top Travel Agency in the Northern Ireland"
The shortlisting stage was undertaken by a panel of 50 travel suppliers including airlines, tour operators, cruise lines and car hire providers, who rated hopeful agencies according to their business performance, customer service, expertise, and innovation. In the next stage of judging, a TTG journalist will visit each shortlisted agency to carry out an assessment.
Find the full Top 50 shortlist and more information on the process at ttgtop50.com
Social Share